Produktbeschreibung
Professional manufacturer of ball screws for more than 10 years!
Our advantage:
◊Steady Exporting to Europe, Northern America, Asia, Southeast Asia.
◊Processing four distributors in domestic:
SHENZHEN, SHANDONG, TIANJIN, SHANGHAI
Supplying 3000~4000 sets to these distributors monthly.
◊Fast delivery:10~15 days for standard models.Customized items: 30 days around.
◊Competitive price: We are factory that can export directly to customer. so there is no intermediary cost involved.&Price is much cheaper than other brand.
◊Customized service:Full types are available upon request.
Our Ball Screw Key Features
1. High mechanical efficiency
2. Low noise
3. Accuracy grade of C3, C5
4. Long service life
5. Good synchronism
6. Reliable quality
Specification for ball screw 2505
Product name
Ball Screw
Model
GQ2505
Diameter
25mm
Lead(Pitch)
5mm
Thread length
510 mm
Shaft length
620 mm
Thread
Right hand
Material
GCR15
Production Technology
By grinding
Feature
High reliable and high quality C5
Notes:Left hand, right hand, right and left hand all available(

click to view more

)
The standard model for bi-directional ball screw in stock
Note: Other sizes,and nut shapes are available upon request !!
The characteristic of ball-screw pair
The ball screw drive system is a rolling screw drive system, in which the ball acts as the rolling medium. There are two drive modes:
(1) transform rotary motion into linear motion. (2) transform linear motion into rotary motion.
Ball Screw Features

1. High transfer efficiency

Balls with free motion in the ball screw assembly transfer the force and motion between screw and nut. This transfer mode replaces the traditional transfer mode that screw shaft and nut effect directly. Therefore the minimum rolling friction takes place of the sliding friction of traditional screw. The transfer efficiency of ball screw will reach more than 90%. The drive torque of transfer unit reduces to 1/3 of sliding screw. This also reduces the heat release largely.

2. High positioning accuracy

Ball screw has low heat release, small temperature increase and with actions of pre-stretch and eliminating axial clearance in the process, which make ball screw have high positioning accuracy and repeating positioning accuracy.

3. Reversibility

Ball screw has not sticky friction like sliding screw. It clears crawl which may exists during transfer. Ball screw can achieve two transfer modes - from rotary motion to linear motion and from linear motion to rotary motion, and transfer momentum.

4. Long service life

Since the strict control of ball screw groove shapes, surface hardness and material selection, the actual life of ball screw is much longer than sliding screw.

5. Good synchronization

Due to smooth running, axial clearance elimination and consistency in manufacture, several sets of ball screw assembly can drive the same unit or several identical parts to obtain the good synchronization
Ball Screw circulation mode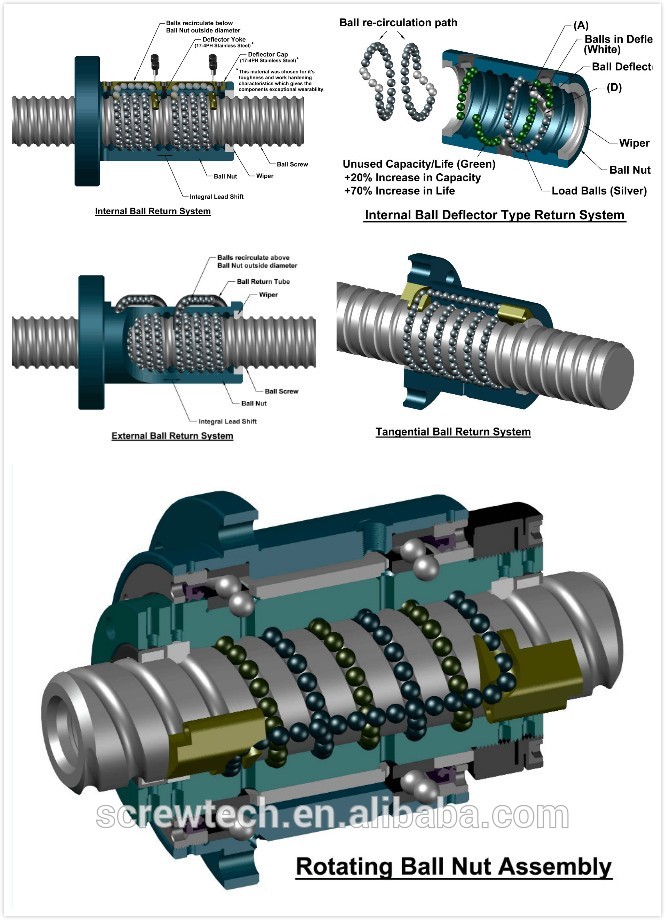 Application fields
Automatic controlling machines, semi-conductor industry, general industrial machinery, machine tools, medical equipments, parking systems, measuring instrument, Automatic computer strip machine, Gantry cranes, Gantry robot, 3D engraving machine, linear stage, electric tools, linear actuator ect..
Our Ball Screw series
1.Miniature ball screw
2.Left hand ball screw
3.Bi-directional ball screw
4.Stainless steel ball screw
5.Customized ball screw
1.Specification of M-ISNF series( standard model, fast delivery 7-15 days)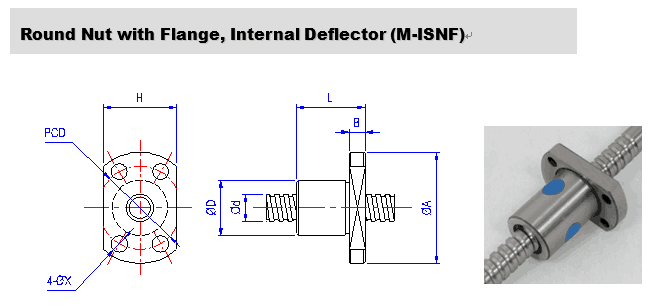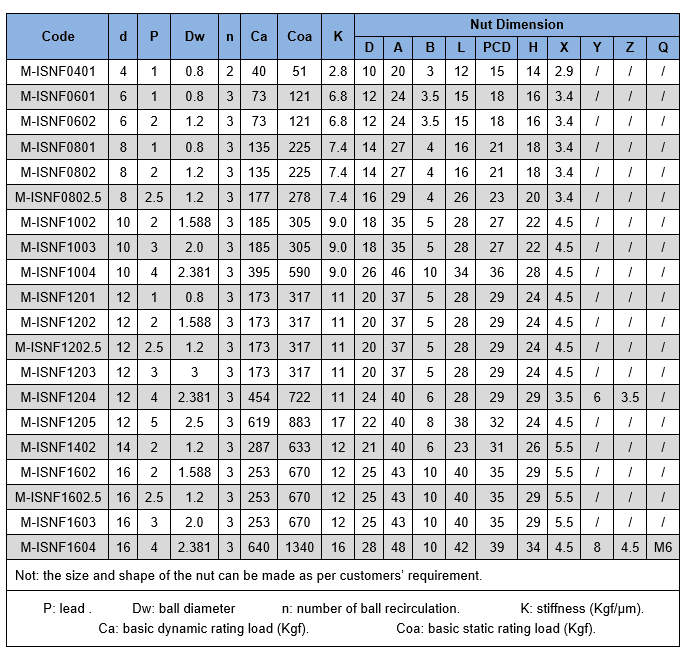 3.Specification of M-ISNC series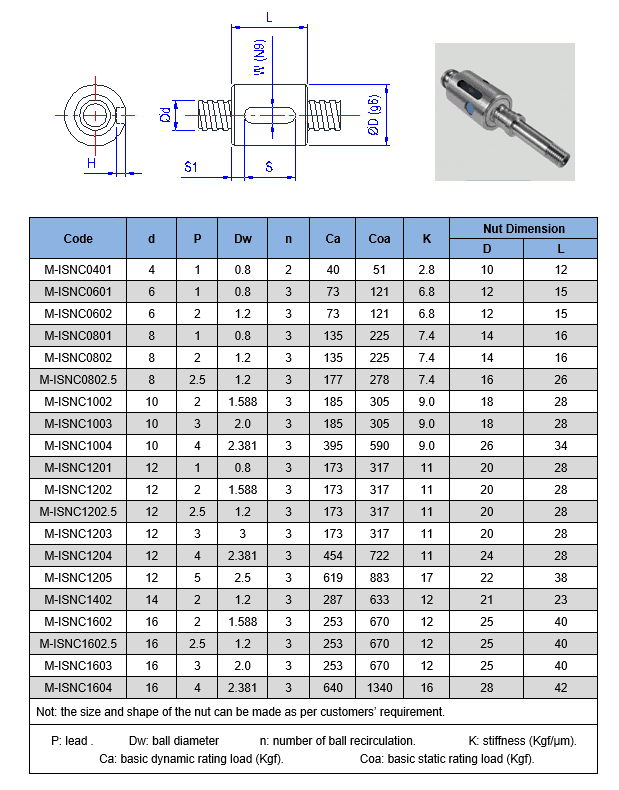 Other types and shapes are available upon request
Our ball screw range:
Miniature Dia. : Ø 4 ~ 16 mm
Some unique models such as 0401, 0602 , 1210,1404 and so on.
Nominal Diameter: Ø 16~ 300 mm
Nut type: Standard or customized.
Customized item, lead time: 30 days at most
Processing technology:by grinding
Accuracy grade:C3 C5 C7
Thread Direction : Right ; Left ; Bi-directional
Material: Gcr15 or stainless steel
You can use our own brand or we design and produce customized products as per your requirement.
Why choose us ?
1. The unique and professional manufacturer for ball screw in China
Screwtech designs, manufactures a large array of ball screws:
a.Standard ball screw:M-ISNF flange nut ball screw; M-ISNA,M-ISNC round nut without flange ball screw.
b.Customized ball screw,miniature ball screw, large diameter ball screw, high helix ball screw.
c.Ball screw thread direction: right hand, left hand, bi-directional thread ball screw.
d.Material:Gcr15, stainless steel
e:Surface coating:black oxide, T/e/f/l/o/n, PTFE etc..
2. Processing a number of distributors in China locally:
Shenzhen, Guangzhou, Shanghai ,Shandong, Tianjin
3 Quality control
1).We have QC department to control quality for each step.
2).We also have Automatic product equipments(German Chiron FZ15W ,DMG MORI MAX3000 Machining Centers ) which can cantrol the precision itself
3).ISO9001:2008
4 Competitive Price
Screw Technology is a manufacturer which can export directly to customer, so there is no intermediary cost involved.
5 Fast Delivery
Standard model: 7~15 days
Customized model: 30 days at most
6 Best After-Sale Service
After-sale service and any technical assistance are always given quick support within 12H.
SCREW TECHNOLOGY CO., LIMITED
Wir SCREWTECH sind der professionelle Hersteller von Gewindespindeln, Kugelumlaufspindeln, Lagerprodukten und Linearbewegungsteilen.
Unser Unternehmen verfügt über mehr als 14 Jahre Erfahrung in der Herstellung von Kugelumlaufspindeln und wir sind der Top3-Hersteller von Kugelumlaufspindeln. Unsere Kugelumlaufspindel kann HIWIN, TBI, KSS, THK dieser Marke direkt ersetzen.

Unsere Hauptvorteile sind Fertigware, kundenspezifisches Design und wettbewerbsfähiger Preis. Die Vorlaufzeit beträgt 7-30 Tage für verschiedene Modelle.
Wir könnten jeden Monat 30.000-40.000 Sätze Kugelumlaufspindeln und andere Produkte herstellen und haben mehr als 2.000 Artikel.

Unser Unternehmen hat die IATF16949-Zertifizierung bestanden, was bedeutet, dass unser Produkt den Industriestandard für Automobile erfüllen kann, und nur wenige Automatic-Unternehmen in China haben es, da es sich um ein striktes Standardsystem handelt.

Hier möchten wir mit Ihren Seiten prüfen, ob es Projekte gibt, mit denen wir zusammenarbeiten können.
Jedes Feedback, das Sie geben können, wäre sehr dankbar. Vielen Dank!
Name der Firma: SCREW TECHNOLOGY CO., LIMITED
Vertreter: Jeffery Yao
Produkt / Dienstleistung: Kugelumlaufspindel , Leitspindel , Lineare Bewegung , Einachsiger Roboter , Miniatur-Präzisionskugelschraube , Linearlager
Kapital: US$1 Million
Jahr Errichtet: 2011
Absatzmenge des Jahres (in Mio. US $): US$2.5 Million - US$5 Million
Exportanteil: 41% - 50%
Jährliche Kaufvolumen (Millionen US $): US$2.5 Million - US$5 Million
Zahl der Fertigungslinien: 20
Zahl der Mannschaft der R&D: 21 -30 People
Zahl der Mannschaft der QC: 11 -20 People
OEM Dienstleistungen verbieten: yes
Größe der Fabrik (Sq.meters):: 5,000-10,000 square meters
Ort der Fabrik: 5/F, Bldg. B, Baodai Sci-Tech Park,
Ansprechpartner: Mr. Jonathan Qian
Telefonnummer: 86-0512-66903936